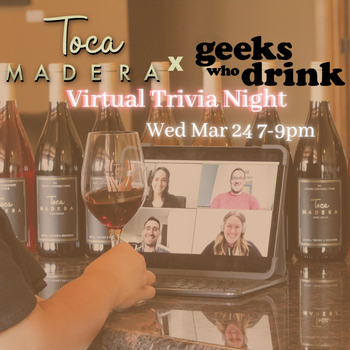 Virtual Trivia Night!
2 Bottles of Wine + Trivia!
Wednesday March 24th 7pm-9pm
First 5 Wine Club Members to email isabel@tocamaderawinery.com get free admission to trivia via Zoom invite! *note: free admission does not include wine.*
Join us for our FIRST-EVER TRIVIA NIGHT on Zoom! Partnering up with the popular Trivia company, Geeks Who Drink, we will have an outrageously fun night of wine and trivia in the comfort of your own home! No need to call the uber!
$40 includes: 2 bottles of award-winning Toca Madera Wine (Local Delivery or Pickup only), and a zoom invitation link to our trivia night! Only 1 ticket needed per household.
Gather your household or a few pals, pop open some bottles and let the good times flow!
Available for Local Delivery (Fresno/Clovis/Madera) or Pickup only.
Must Indicate Pickup or Local Delivery In Gift Notes