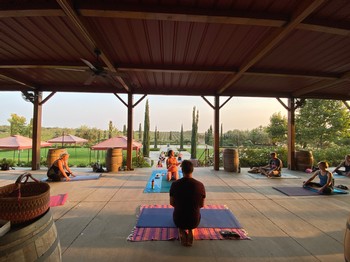 *POSTPONED* Yoga in the Vines Sunday with COIL Yoga
COIL Yoga Sunday at Toca Madera Winery!
Join COIL Yoga Owner Katie Flinn for this in person Yoga & Wine tasting event! This will be a JOYOUS time to re-connect safely in person (with social distancing protocol) in place and enjoy a beautiful autumn evening practicing Yoga in the scenic backyard of Toca Madera Winery. The Yoga practice will be fun, accessible and open to anyone who wants to join. Following the class, join us as Toca Madera Winery offers an outdoor tasting of some of their most popular wines. Class time 60 min.
** Please note masks will be required to enter the building for check-in and use of the bathrooms but you will be able to take it off if you choose when spaced outdoors on your Yoga mat or wine tasting.
To Complete your registration and attend this event you MUST sign a waiver by following these steps:
Click "Book" for any class to get to the waiver hit "Next"
Click "Create Profile" if you are a new student
Follow the prompts to enter your information and fill out the ONLINE waiver.
Date: Sunday, November 15th 2020
Time: 10:30am-12:30 pm
Cost: $35 includes yoga class and wine tasting
Must fill out waiver to complete registration.